As a Komen fundraiser, we know you give your time, passion, and dedication to giving back to your community. We want to show you how much we appreciate your efforts and accomplishments in going the extra mile to make the biggest impact possible in the fight against breast cancer.
Fundraising Rewards are earned for each level you reach!
Raise $50
Receive a $5.00 Gift Card to Wolfs-111
Raise $100
Receive a $10.00 Gift Card to Wolfs-111
Raise $250.00
Receive a Pink Tutu + $15 in GIft Cards to Wolfs-111
Raise $500
Receive a Komen Tote Bag + Pink Tutu + $25 Gift Card to Wolfs-111
Raise $750
Receive A Color Changing Tumbler + Pink Tutu + $50 to Wolfs-111
As usual, top fundraisers will receive a certificate for a pair of New Balance Sneakers.
Raise $1500 and recieve a certificate for a pair of New Balance Sneakers, plus all of the prizes at the $750 level*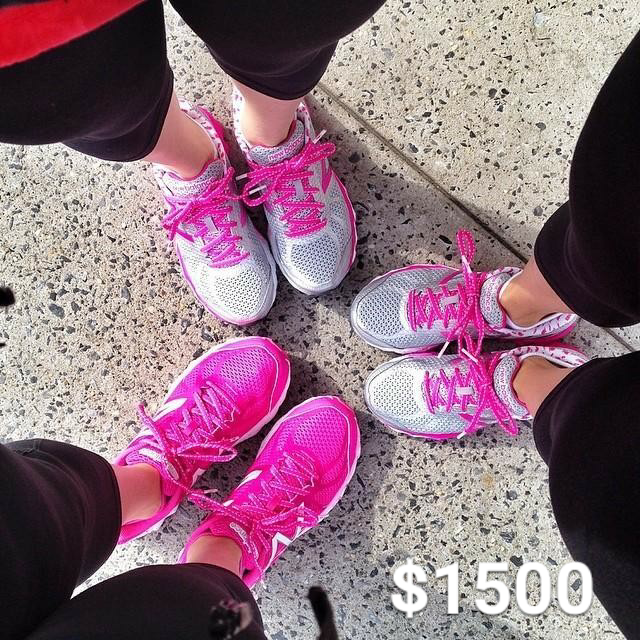 *Please note that sneaker design will vary
Fundraising rewards can be picked up at the donations table on Race Day. The Donations table is located inside the concourse near the Madison Avenue Doors.

Sleep-In for the Cure Participants will have their donation prizes mailed to them

Sneaker Certificates will be mailed out around mid-late December

If you believe that you raised enough money to earn a reward, but it is not showing in your participant center, please contact us before the close of the fundraising period. We use those totals to determine the fundraising rewards.

Donations made to a team, not to a member of the team aren't counted towards individual fundraising rewards. If you need a donation adjusted, please contact the office or visit the donations table on race day!