General Race Information
Q. When is the Race?
A. The Race will be held on October 1, 2016. The Race start time will be around 9am. Specific details will be available soon.
Q. Where is the Race?
A. The Race will be held at the Empire State Plaza. The start and finish line is between Eagle and Swan Streets on Madison Avenue. Registration, Merchandise, Volunteer Check-in, the grantee and sponsor expo, donations table and bag check are all located on the Concourse near the Madision Avenue Doors. The survivor tent, Ford Tent, and refreshments tent will be located up on the plaza near the stage. Map .
Q. How much is the registration fee?
A. $30 for Adults, $10 for children. Prices increase to $35 at packet pickup and $40 on race day.
Q. Is my registration fee tax-deductible?
A. No, your registration fee helps defray the costs of producing the Race and is not considered tax-deductible. However, any amount that you choose to donate above the entry fee is tax-deductible.
Q. What is included in the registration fee?
A. You will get a Race number, a Susan G. Komen Race for the Cure® t-shirt, and a great feeling! Pins are back this year, and only guaranteed to the first 1500 participants.
Q. How can I register?
A. You can register online by clicking here. You can also register offline by downloading this form and mailing to the address below: PO Box 13535 | Albany, NY 12212
Q. How will I receive my Race packet including t-shirt?
A. Packet Pick Up from 10am-7pm Thurday and Friday. You can also pick up your packet on race morning at the registration table. Be sure to allow up to 30 minutes before the Race or walk starts to get from registration to the starting line.
Q. How long is the Race?
A. The Race is a 5K route, which is approximately 3.1 miles. The 5K is timed and you may walk or run the 5K course. The Family Walk is a shorter, untimed option (approximately 2 miles). If you are unable to walk or run, you can still register and join us on Race day. We are always looking for people to cheer on our runners and walkers. If you need assistance obtaining a wheel chair, please contact us.
Q. How can I become a volunteer?
A. The success of the Komen Northeastern New York Race depends heavily on the support we receive from our volunteers in the months leading up to the Race and on Race Day. There are many ways you can get involved, for more information, click here.
Q. Are pet and strollers allowed at the event?
A. Pets are discouraged from the event. Strollers are permitted during the family walk and throughout the plaza area, but for safety reasons they are not permitted to be used on the course during the 5K.
Q. Are headphone allowed during the race?
A. Yes. Be sure you can still hear directions from course marshalls or police if necessary.
Q. What if it rains?
A. Komen holds the right to cancel or change the date or location of the Race in its sole discretion, including in the circumstance of extreme weather. It is likely, however, that the event will happen rain or shine. If there inclimate weather, we may delay the start of the race, but only in very extreme cases will we cancel. Please dress accordingly. In the event of a cancellation, registration fees will be considered a donation.
Q. The Freihoffer Run for Women changed their course. Is Komen moving their course too?
No. The Race for the Cure will remain on Madison Avenue. We expect that construction on the plaza will be completed before the 2016 Race and look forward to making full use of the space once again.
Online Registration FAQ
Q. When I try to register it says my email is already in use, or that I already have an account? I don't remember creating an account, how do I retrieve my username and password?
If you have registered for the race in the past, you should already be in our system. If you were first in our system many years ago or you registered for the race or another event using a paper form, the system assigned you a username and password. To get you username and password follow the steps below:
1. Click the big pink register button at the top of the page
2. Click on the type of registration (Individual, Existing Team or New Team)
3. You should see the login screen below. Click the link highlighted below to have your username emailed to you.
.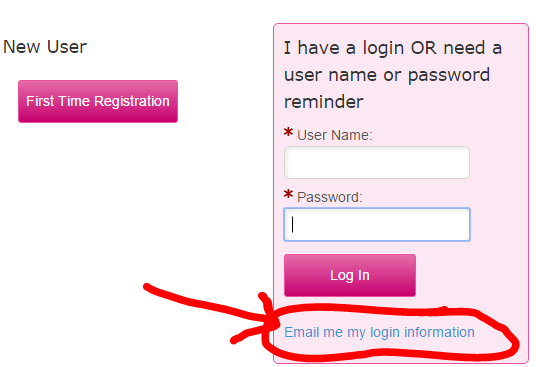 Q. I have a discount code or a corporate billing account, where do I enter my code?
A. The discount code box is located immediately below the registration options. See the screenshot below.


Fundraising FAQ
Q. Does the Komen Race for the Cure® require fundraising?
A. You are not required to fundraise, but we do encourage all participants to fundraise above the entry fee. Just Imagine the IMPACT - If every Race participant raises just $100 in addition to their registration fee, we would bring in an additional $200,000 to support local screening, treatment and educational programs in our community!
Q. Does the money raised stay right here in our community?
A. Yes! Up to seventy-five percent of the net income from the Race stays right here in our community to fund vital breast cancer health education and breast cancer screening and treatment programs. Many of the programs you've come to rely on here in the community for breast cancer education, screening, treatment and support are funded by Susan G. Komen NENY. Visit our grants page to learn more about the organizations who recieved funding from last year's race or visit them on race day at the grantee expo near the registration table.
The remaining twenty-five percent supports Komen's national research and training grants program
Q. Where do I send donations?
A. Donations can be dropped off at the donations table during packet pickup or on race day. The donations table will be located on the concourse near the Madison Avenue Doors. Or mail to: PO Box 13535 Albany, NY 12212
For donations on behalf of an individual participant or a team, please include that information with your check.
Donations can also be made online
Q. Is there a deadline for fundraising?
A. All donations on your behalf that are received by October 30th, 2016 will be credited to your fundraising total. The award for the top fundraising team will presented at the race. For the purposes of awarding the largest fundraising team, we will present the award to the team with the most funds raised as of 10:00am on Race Day.
Q. When will I receive my fundraising incentives?
A. Your fundraising incentives are calculated based on the total fundraising dollars you have collected. You can pick up your prizes at the donations table near the Madison Avenue door of the concourse on Race Day. Prizes not picked up on Race Day can be obtained from our office beginning on Monday 10/5. Fundraising prizes (except New Balanace Sneaker Certificates) will only be mailed to Sleep-In for the Cure participants. All others should pick up their prize at the donations table on Race Day. New Balance Sneaker Certificates will be mailed approximately 6 weeks after the close of fundraising which is currently scheduled to end on October 31st. Prizes are not cumulative.
Q. What are some ways I can fundraise for my team/my individual goal?
A. We have plenty of ideas on our Fundraising Tips page
TEAM FAQ
Q. How do I form a team?
A. To be considered an official team, you will need 10 or more registered members by the morning of the Race. You can form a team or join a team online. For more information, visit the getting started page or contact us at (518) 250-5379 or info@komenneny.org.
Q. What are the benefits of a team?
A. Forming or joining a team multiplies the fun you will have on Race day. You can create a team to celebrate a survivor or honor someone you have lost. You can also create a corporate team and get your entire company involved. To learn more check out the Team Rewards page.
Q. Do teams have to fundraise?
A. Teams are not required to fundraising but we strongly encourage fundraising. Fundraising as a team can be fun. Click here to get a list of fundraising events your team can do.
Q. One of my team members registered as an individual when they meant to join my team. How do they correct this?
A. Please contact us at 518-250-5379 or send an email to info@komenneny.org to get this corrected.
Q. Can donations made to a team be split or shared among team members?
A. We are unable to split or transfer donations between individual and team accounts. If a donation was made to a team and it should be credited to an individual on that team, please contact us at 518-250-5379 or info@komenneny.org and we can correct it.
Q. Will there be an area for my team to meet-up on Race day?
A. There will be a team meeting area on the concourse near the Madison Avenue Doors
Q. I would like to change my team division (i.e. Schools, Company, Friends and Family, etc.) or my team name, how can I do that?
A. Team Captains can log into their participant center, then click the black "Team Page" tab, in the right hand box you will see a small link that says "edit". Then just choose your new division or type in your name name. Don't foget to hit update to save!
Q. I would like to change my team fundraising goal, how do I do that?
A. Team Captains can change their team fundraising goal by logging into their participant center.
1. Select the Black tab called Progress
2. Choose Team from the right side menu bar
3. Next to Team goal, click the "change" link